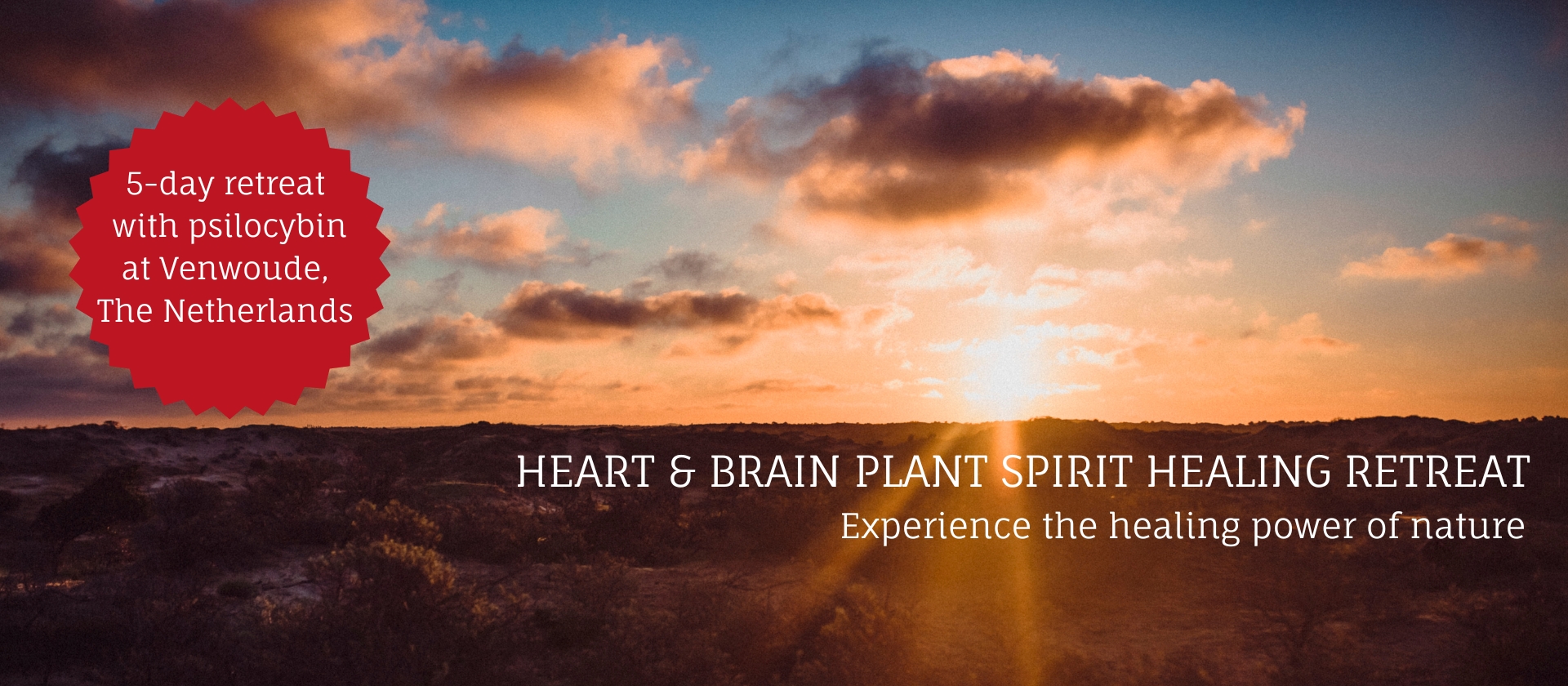 Heart & Brain Plant Spirit Retreat
25 oktober

-

29 oktober

|

€845.00 – €975.00
(ENGLISH BELOW)
Tijdens deze vier dagen laten Anouk Bindels en haar team je de ongelooflijke kracht van lichaam en geest zien.
Met psychedelica (psilocybine) kun je dieper in je eigen trauma duiken, waardoor je je problemen vanuit nieuwe invalshoeken kunt bekijken die nieuwe waarheden kunnen bieden.
Van psychedelica is aangetoond dat ze mensen psychologisch flexibeler maken – en daarom zijn ze vooral nuttig om mensen te helpen uit de schadelijke, repetitieve denkpatronen te komen die vaak het kenmerk zijn van aandoeningen zoals depressie, angst, PTSS en verslaving.
Wat als je zou?
» Genezen in Heelheid en bewust groeien? Voel je je heel?
» Je innerlijke zelf kennen en je vrij voelen om je volledige potentieel te leven?
» Leer hoe de geest werkt en wat creëert die geest? De aard van uw programmering leren kennen, hoe u deze kunt herkennen en hoe u zich ervan kunt losmaken?
» Weet u hoe u kunt mediteren en uw zelfgenezend potentieel kunt ontsluiten?
De retraite geeft je tools en kennis over
» Je hersenen, lichaam, je emoties, energie
» De kracht van geest en ziel over het lichaam
» Emoties die schade toebrengen en emoties die genezen.
» Compassionate Inquiry
» Meditatie
» Lichaamswerk
» Plantengeneeskunde (magische truffels)
» Andere praktische hulpmiddelen om je zelfgenezend vermogen te ontsluiten
Venwoude
Venwoude is een prachtige locatie in het midden van Nederland, gelegen in de bossen.
Het staat bekend om de buitengewoon mooie sfeer, de natuur en de liefdevolle zorg, de eenvoudige maar hoogwaardige accommodatiemogelijkheden, de mooie kamers en de heerlijke biologische en vegetarische maaltijden. Een unieke plek met mogelijkheden voor een prachtige HEART & BRAIN PLANT SPIRIT HEALING RETREAT
Praktische informatie:
Data:
woensdag 25 oktober 17 uur ontvangst
zondag 29 oktober 14 uur einde
KOSTEN
Early bird t/m 30-09-2023: 845,00 Euro
van 01-10-2023: 975,00 Euro

NB deze retreat is Engelstalig
Vegetarisch/veganistisch volpension, plus de plantmedicijnen zijn allemaal inbegrepen.
Overnachtingen op Venwoude zijn verplicht en los te boeken via hun website
Kosteloos annuleren tot 14 dagen na boeking. Daarna 50% van de retraitekosten.
ENGLISH
During these four days Anouk Bindels and her team show you the body's and mind's incredible power.
Psychedelics (psilocybin) allow you to delve deeper into your own trauma, helping you to see your problems from new angles that can offer new truths.
Psychedelics have been shown to make people more psychologically flexible – and therefore are especially useful in helping people shift out of the harmful, repetitive thought patterns that are often the hallmark of conditions such as depression, anxiety, PTSD, and addiction.
What if you would
» Heal into Wholeness and enter conscious growth? Feel whole?
» Know your inner self and to feel free to live to your full potential?
» Learn how the mind works, and what creates that mind? Learn the nature of your programming, how to recognize it, and how to disconnect from it?
» Know how to meditate and unlock your Self Healing potential?
The retreat will give you tools and knowledge about
» Your brain, body, your emotions, energy
» The power of the mind and spirit over the body
» Emotions that harm and emotions that heal.
» Compassionate Inquiry
» Meditation
» Body work
» Plant medicine (magic truffles)
» Other practical tools to unlock your Self- Healing power
Venwoude
Venwoude is a beautiful location in the middle of the Netherlands, located in the forest.
It is known for the extraordinarily atmosphere, the nature and the loving care, the simple but high-quality accommodation options, the well-kept rooms and the delicious organic and vegetarian meals.
A unique place with possibilities for a beautiful HEART & BRAIN PLANT SPIRIT HEALING RETREAT
DATE:
Start: Oct 25 th, 17 hrs
End: Oct 29th, 14 hrs
PRICE
Early bird until 30-09-2023: 845,00 Euro
from 01-10-2023: 975,00 Euro

Vegetarian/vegan full board, plus the plant medicines are all included.
Overnight stays at Venwoude are mandatory and can be booked separately via their website
Free cancellation up to 14 days after booking. After that, 50% of the retreat costs.