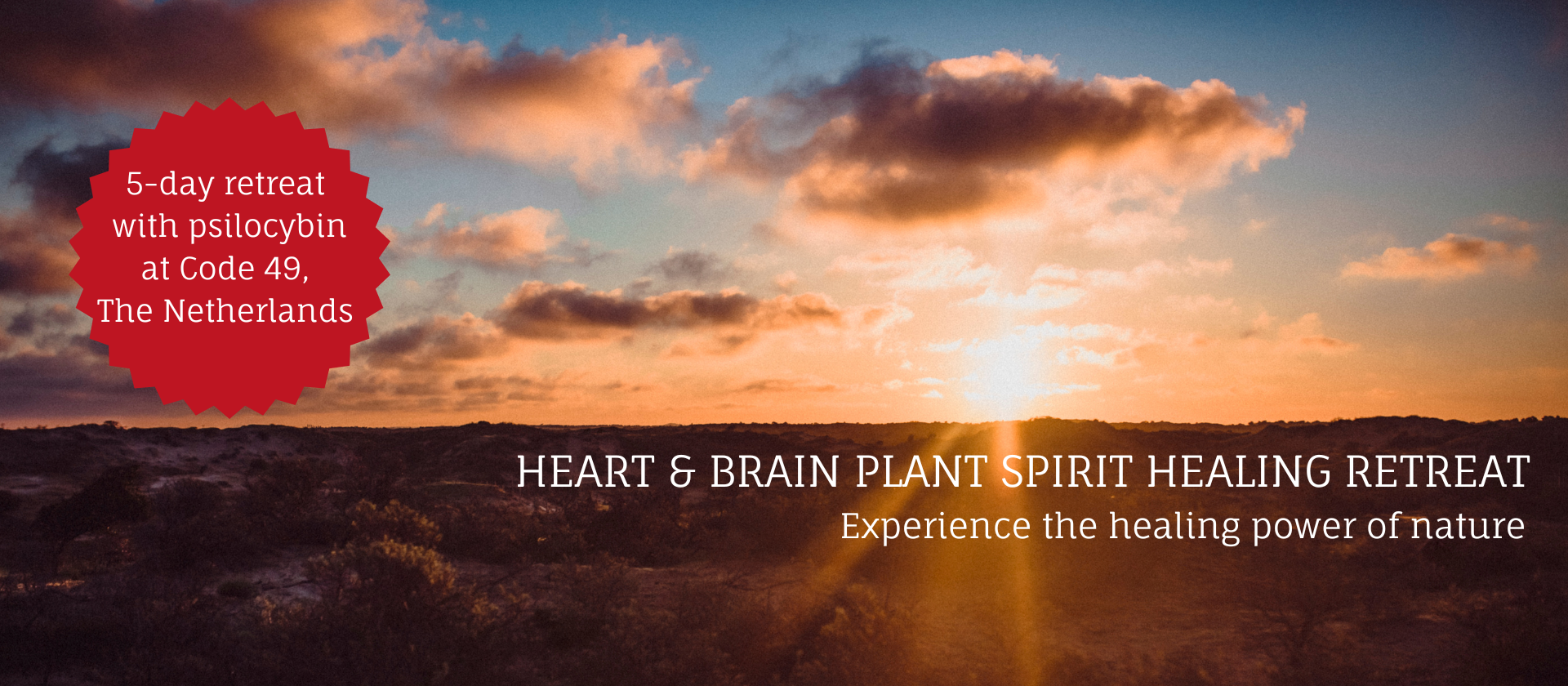 Plant Spirit Retreat
31 januari, 2024: 17:00

-

4 februari, 2024: 16:00
Connect to Nature and Discover Its Healing Power
Escape to the serene beauty of Code 49 Retreat Center in The Netherlands for a 5-Day Retreat like no other!
Join us on Wednesday, January 31, 2024, at the enchanting  Code49, Vuurse Steeg 1, 3749 AN Lage Vuursche, for an unforgettable journey within yourself.
Emotional wounds from stress, trauma, and loss can linger deep within. But within each of us lies the power to heal.
Experience the Magic of Psilocybin
Discover the transformative potential of psilocybin, a mushroom-based medicine that can guide you on a compassionate journey of self-healing. It empowers you to rewrite your story from within, unlocking profound insights and personal growth.
The Heart & Brain Plant Spirit Retreat
This 5-day retreat is a profound process of self-discovery:
Wednesday: Arrival and intention setting
Thursday: Prepare for your journey
Friday: Psilocybin ceremony for brain harmonization
Saturday: Integration through meditation, bodywork, and ritual
Sunday: Conclusion of your transformative journey
✨ Guided by Experts ✨
This retreat will be led by the remarkable Dr. Julia Javkin and myself, two experienced professionals passionate about healing:
Dr. Julia Javkin: A physician, psychiatrist, and Acupuncturist with extensive experience in mental health and psychedelic-assisted therapy. Her holistic approach blends movement therapy, acupuncture, and psychiatry to promote healing.
Don't miss this opportunity to embark on a life-changing adventure! Reserve your spot now and allow the healing power of nature to transform you from within.
DATE:
Start: 31st January 2024, 17 hrs
End: 4th February 2024, 16 hrs
PRICE
Early bird until 31-12-2023: 1.025 Euro
from 01-01-2024: 1.195 Euro
(service costs payment platform included)
Vegetarian/vegan full board, plus the plant medicines are all included.
Overnight stays at Code49 are mandatory and can be booked and paid separately via their website
Free cancellation up to 14 days after booking. After that, 50% of the retreat costs.